Tis' the season to be jolly ??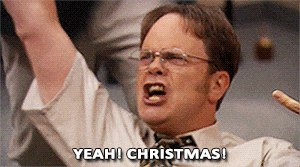 It is THAT time. Time to start thinking about what you're going to buy for everyone in your life.
You're sort of thinking, hmmm… maybe a gluten free present is a good get-out-clause. Go for it! I've put together my top favourites for you to get your presenty thoughts flowing
1. A gluten free sweet tooth tour for two
If you fancy heading to London or splashing out on your GF loved one, this could be a genius idea.
A gluten free tour of London's best independent bakeries, chocolate shops, cheesemongers and gelaterias.
Sweet Tooth Tours was founded by Lynne Staartjes, a Le Cordon Bleu trained pastry chef and resident of the area who previously worked at Peggy Porschen Cakes and Pierre Hermé Paris.
Sound good? Head HERE to buy!
2. A cook book
I dunno about you but can anyone really own too many cook books?
My mum always said "buying a book is an investment."
and if you're pal is anything like me, they might not be very good at cooking. A cook book could be exactly what you're looking for!
3. A gluten free hamper
You can't go wrong with a little hamper… they are THE cutest things in all of the land.
Little tip: You can make your own hamper if you buy a little basket out of TK maxx or Hobbycraft ?
A luxurious one I have seen is from The British Hamper Company (sounds like they know exactly what they're doing!) and you can find it HERE.
4. A way to make their VERY OWN gluten free beer
and just like that… they can be budding beer brewers! Watch out BrewDog ?
You can find different versions at The Home Brew Shop.
5. A meal planner
This is a double whammy if your buying this for someone who LOVES to be organised.
2 birds, 1 stone huh?
Meal planners spotted HERE for cheaps.
6. A bread maker
I can't believe I have even PUT this on the list but you know, some people love a good bake of a bread.
What other way to ensure there is definitely. no. gluten.
Found one here for ya. ?
7. A bag of gluten free flour
If you're reading this and you laughed… don't. ?
Or at least laugh quieter. I did mean a bag of flour, yes.
Why not, eh?
I heard this bag is tasty.
What did you get for Christmas?

Och, a bag O floour
???
Bag of flour can be bought here btw.
Merry GF Christmas my friend. x